THE UNIT
Our team of Mechanical and Chemical Engineers working closely with one of the country's premier manufacturing facilities has developed cutting edge technology to bring Proactive Pandemic Protection to residential, commercial, industrial, medical, educational and retail facilities.
Our system is highly advanced technology in a compact, easy to install, simple to operate package.
Dual voltage capability is built right in.
PATENT & TRADEMARK
US PTO Trademark #4,032,797
US PTO Patent #17/304,404
UL (Underwriters Laboratory) listed
UL 60730-1
UL 778
CAN/CSA-E60730-1
CSA/C22.2 No. 108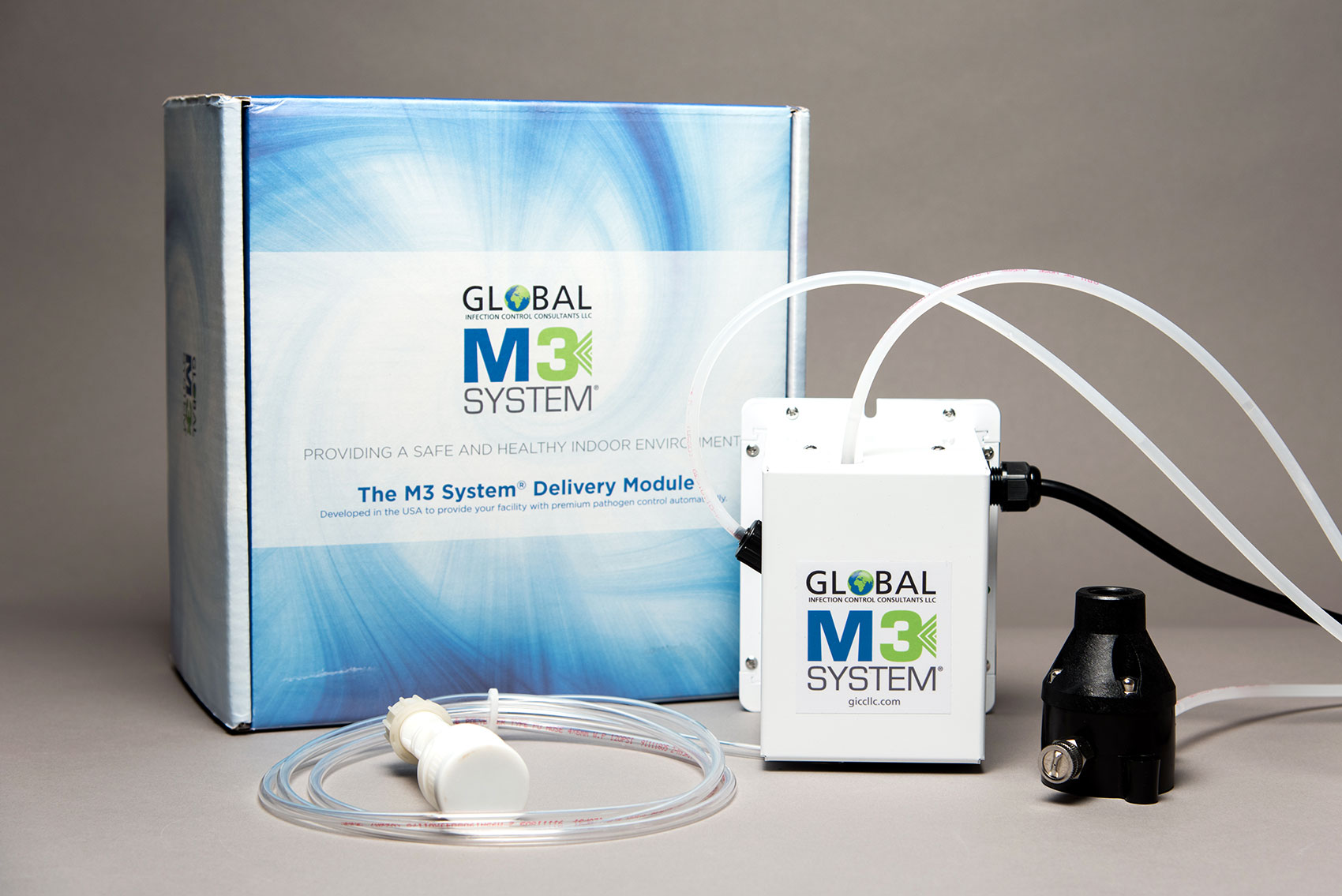 CONTROL MODULE
Our proprietary sequence of operation is built into a compact pumping and control module that can be installed inside your air handler, on the exterior or on an adjacent wall. This module is designed to input only one of two authorized organic based products effective against harmful pathogens. Our proprietary sequencing of frequency and amount of product input has been scientifically tested in more than 4,000 buildings worldwide. We assure you of maximum results with minimum costs.
DISPERSION NOZZLE
Based on the micron size output we require to maximize the Brownian Motion effect, our dispersion nozzle was designed and selected to work only with our component package. There are multiple options for mounting the dispersion nozzle based on your particular air handler configuration.
FOOT VALVE
To ensure a proper fluid pickup and delivery to the pumping and control module, our engineers designed the Foot Valve with a weighted bottom so it will stay upright in the fluid reservoir. It has been designed with no moving parts for trouble free, dependable operation.
THE PRODUCTS
We only use products that have been laboratory tested under strict EPA approved protocols and are proven to kill numerous pathogens including the current COVID-19(SARS V2) strain. We only use products that are registered on the EPA N-List or carry and EPA Exemption under the Emerging Viral Pathogens Guidance for Antimicrobial Pesticides as reauthorized on January 20, 2020. Only those products reviewed and authorized by Global Infection Control Consultants LLC are certified for use.
        Path-Away® Anti-Pathogenic Solution - MSDS Sheet
• EPA Exempt under FIFRA 25(b). Certified Organic Input.
• Non-GMO. Drug and Alcohol Free. Biodegradable.
• Tested against COVID-19(SARSCoV2)




SYSTEM CONFIGURATIONS

The M3 System® was conceptualized and engineered for adaptability to various building environmental systems.






Our standard package is designed for ease of installation to any HVAC system. The control module can be direct mounted on the system cabinet and the nozzle installed in an appropriate location allowing dispersion of the pathogen control fluid. The fluid pick-up strainer must be no lower than 6 feet/1.8 meters below the control module. The pathogen control dispersion nozzle may be mounted up to 30 feet/9.1 meters above the control module.

Additional Requirements:
1. Fluid reservoir by choice of owner.
2. 110 or 220 V outlet within 5 ft/1.5 meters






Our Commercial & Industrial Module is our standard control package pre-mounted on a powder coated aluminum tank with an approximate two (2) moth fluid reservoir. Pre-piping of fluid pickup and system venting is in place. Simply place the module in a protected location and run the pathogen fluid dispersion nozzle to the HVAC system and securely mount before filling and system initiation. The fluid reservoir fill is approximately 6 inches/152.4 mm in diameter for ease of filling. The fluid reservoir tank contains a built-in pressure equalization vent as well as a tank drain for periodic maintenance flushing and cleaning.

Additional Requirements:
1. 110 or 220 V outlet within 5 ft/1.5 meters




** Be on the lookout for our upcoming announcement of the release of our residential package to protect you in your home. **